Double-Stage Extrusion System
---
Mother-baby extrusion system is designed for special materials which can not process on one stage extruder, the first stage is a twin screw extruder, and the second stage is a single screw extruder.
PVC compounding for cable / hose / pipe fitting

HFFR cable compounding/XLPE for cable

High-concentration carbon black Masterbatch (MB)

others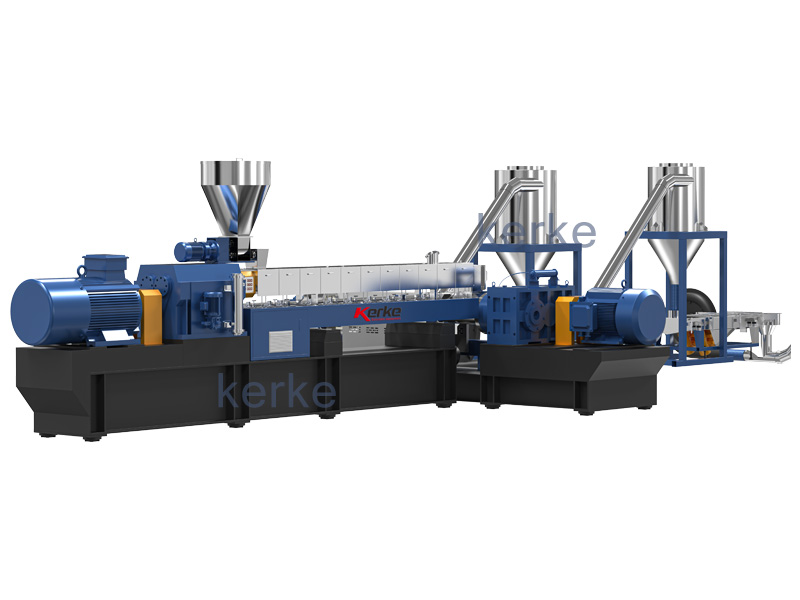 ---
When you should use a double-stage extruder?
If your material needs special dispersion but not over shear like the cable material (PVC, XLPE, HFFR, etc). The primary twin screw extruder provides the mixing and dispersing, the second single screw extruder is for pelletizing. 
Main technical parameter

Model

 

Screw Diameter
【mm】

Screw
【L/D】

Maximum Speed
【rpm】

Motor
【Kw】

Output
【Kg/h】

KTE/SE-50B/120

KTE-50

50.5

24~48

500

45~75

100~350

SE-120

120

7~20

0~120

30~37

KTE/SE-65B/150

KTE-65

62.4

24~48

500

75~90

200~500

SE-150

150

7~20

0~120

37~45

KTE/SE-75B/180

KTE-75

71

24~48

500

110~160

400~800

SE-180

180

7~20

0~120

45~75

KTE/SE-95B/200

KTE-95

93

24~48

500

250~315

700~1500

SE-200

200

7~20

0~120

75~132