Parallel Twin Screw Extruder
---
Our Parallel Co-rotating twin screw extruder is designed for compounding and masterbatch making with an output capacity from 30kg/h to 4000kg/h.
Color Masterbatch       

Filler Masterbatch

Engineering Plastic     

Biodegradable Plastic

TPU/EVA Elastomer   

HMMA/TVP Application

others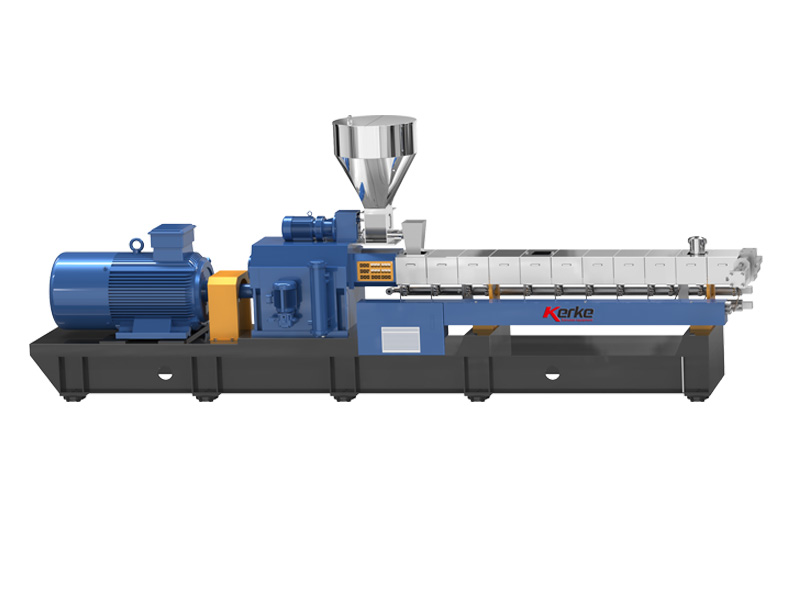 ---
Why should you choose our twin screw extruder?
With over 13 years of experience in twin screw extruder manufacturing, our customers cover over 70 countries, and we can provide a turnkey solution, we will be your reliable partner. 
Advantages of Kerke
Over 13 years of focus on twin screw extruder

We insist on producing the core parts by ourselves (screw, shaft, barrel, and gearbox)

We can provide from formula to end product (full solution)

You can always trust our quality and service
Main technical parameter
Model

Screw Diameter
【mm】

D/d
【mm】

Maximum Speed
【rpm】

Motor
【Kw】

Torque
【Nm】

Output
【Kg/h】

KTE-16

15.6

1.71

500

2.2

2X18

1~5

KTE-20

21.7

1.55

500

4

2X30

2~15

KTE-25D

26

1.55

500

7.5~11

2X85

5~20

KTE-36B

35.6

1.51

500~600

18.5~22

2X210

20~100

KTE-36D

35.6

1.51

500~600

22~37

2X352

20~150

KTE-50B

50.5

1.55

500~600

55~75

2X525

80~200

KTE-50D

50.5

1.55

300~800

75~90

2X860

100~300

KTE-52B

51.4

1.58

500~600

55~75

2X720

80~200

KTE-52D

51.4

1.58

500~600

75~110

2X1050

100~400

KTE-65B

62.4

1.55

500~600

90~110

2X860

200~450

KTE-65D

62.4

1.55

300~800

132~160

2X1530

350~600

KTE-75B

71

1.51

500~600

132~160

2X1530

300~800

KTE-75D

71

1.51

300~800

200~315

2X2100

500~1000

KTE-85B

85

1.54

500~600

220~315

2X2100

550~1000

KTE-95B

93

1.52

500~600

250~315

2X3000

800~1500

KTE-95D

93

1.52

500~800

315~500

2X4800

1000~2000

KTE-135B

135

1.55

500~600

315~500

2X4800

1500~3000

KTE-135D

135

1.55

500~800

500~1000

2X7800

1500~4000